The cold. The rain. The snow. The perceived drawbacks to playing golf in winter are fairly obvious, but there are a number of less obvious advantages too: courses are generally much quieter and, depending on the golf club, you can pick up some excellent winter deals. 
Golfing in winter also allows you to maintain your form and keep improving your game. After all, if you can master the tougher conditions, it only serves to benefit your game in ideal conditions. Here is everything you need to know to play your best this winter.
1. Winter golf can be a lot of fun

Even in inclement weather, golf offers satisfaction and enjoyment to those willing to find it. Especially after playing in warmer conditions for an extended period, the challenge of trying to adapt your game to the winter climate is invigorating.
The cold air and potentially wet ground will have an effect on the flight and roll of your ball, but don't let this deter you! Enjoy the experience and play your best. Nailing that tee shot or holing a birdie putt  in winter is twice as rewarding as it is in the warmer months (besides, summer golf has its drawbacks, too).
Winter may be a great time to explore playing different formats, such as foursomes and better ball or even matchplay and scramble, allowing you to keep focused in the harshest of conditions (or even warm up in between your shots).
2. Be prepared for changes in weather

Winter weather can change quickly and you want to make sure you're well equipped to continue playing if this happens. Having an umbrella in case of a mid-round shower is always helpful, as is being able to add a layer of clothing if it gets windy or especially cold. Which leads nicely to…
3. Play in the appropriate attire

Low body temperature creates stiffness, and stiffness limits your swing and power. Make sure to wear clothing that balances comfort and warmth with flexibility. A good base layer and a pair of thermal trousers will go a long way. Wear thick socks and a beanie to retain body heat and pack a windbreaker or raincoat for when it's needed.
You'll also want to stay dry. Wet weather golf gloves and waterproof golf shoes are essential to keeping your hands and feet snug, but if you're one of those people that runs cold, include hand warmers too.
4. Bring the right equipment

Although we've mentioned an umbrella already, we'll include it again to reinforce the importance. A good-sized umbrella is effective against rain and snow, as well as helping to cover your golf bag while you're taking your shot. Other useful equipment includes high-visibility balls (yellow are the most common) and a decent golf towel (or two!).
5. Good winter golf rules to know

The wet conditions come with a couple of rules that make winter golf more practical:
Casual water
During or after a period of rain, water may accumulate on the golf course. These small puddles are known as casual water. If your shot is affected by this (either because of the submerged location of your ball or because your stance would require wet feet), drop your ball at the nearest point of dry ground that is no closer to the pin, without penalty.
Preferred lies
Winter golf makes for muddy balls. This rule makes a provision for that by permitting you to lift, clean and place your ball when it's in the fairway or grass cut shorter than fairway length such as green fringes. The ball should be marked, cleaned and re-placed within 6 inches of its original position, no nearer the hole.
Embedded balls
Although this rule isn't specific to winter golf, it is more frequent. If your ball digs into the turf and is embedded, you are allowed to clean and place your ball according to the stipulations laid out in the rules above. A local 'mark, lift, clean and replace in the exact spot' may be in place.  Otherwise, normal rules of golf apply.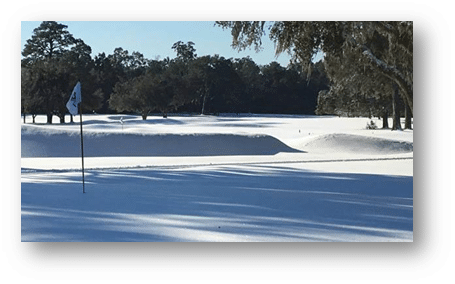 6. Warm up properly using the driving range
Driving range

Limbering up and doing a few stretches helps to prevent injury and stiffness, and it's good for you. Although it's not the most exciting thing to do – especially when the golf course is within view – it's twice as important in winter. If you have any tight muscles or pre-existing niggles, make sure to pay particular attention to those.
If you have the time, you can also visit the driving range and hit a couple of balls. It helps to find the rhythm of your swing and judge the distance your golf ball is traveling. It also means you have some insight on the conditions before playing your first tee shot.
8. Club up

Cold air is heavier than warm air, so your ball isn't going to go as far as it normally would. Compensate for this by using one club up from what you usually have. Maybe look at even adding loft to your driver to give your ball more carry and distance too! 
9. Keep your golf balls warm

Finally, don't forget to keep your golf balls warm in winter. For every ten degrees lost, a golf ball will carry a couple of metres shorter. Keep your golf balls zipped up in your bag while you play to ensure they stay toasty. 
And a bonus tip: iGolf, for golf whenever, wherever
Before iGolf, players needed to join a club to receive a handicap. Now iGolf makes it possible for non-club members to obtain an official handicap index under the WHS.
Accessed by downloading the My EG app, iGolf is specifically designed for golfers of all abilities who are not yet club members or are new to the game.
The benefits of iGolf:
There are a range of benefits you receive when subscribing to iGolf.
A complete digital history of your

golf handicap

and scores over time

Keep track of your progression 

Easy sign-up process

£44 for a 12-month subscription

For peace of mind, personal liability insurance is included in each subscription
To find out more about iGolf, get in touch.