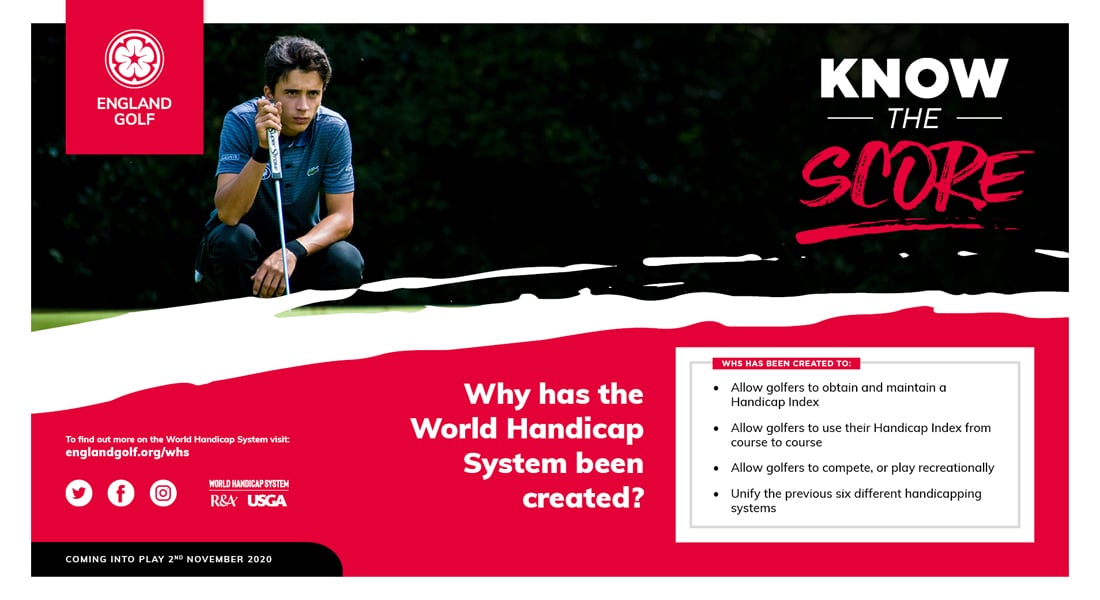 The new year enables us to take stock and create new goals across different areas of our lives such as our health, work performance, hobbies and other sporting interests which in the case of golf, probably includes setting some handicap goals too.
You may already have a handicap and want to compete at some other golf courses this year, or you could be determined to obtain your first official handicap. Whatever your situation is, it will pay to know what the new World Handicap System (WHS) is, and how it will help you to achieve your 2022 handicap goals.
What is the World Handicap System (WHS)?
Developed by The R&A and USGA in collaboration with pre-existing handicap bodies, the WHS is a single, consistent measure of playing ability that calculates a golfer's handicap in the same way regardless of their location in the world, and gives golfers of all abilities a more unified and inclusive experience in the sport. Since its launch in January 2020 the system is close to being fully adopted worldwide, with England Golf rolling the WHS out in November 2020 to around 1,800 golf clubs across England.
What are the benefits of the WHS?
● It makes handicapping easier to implement and understand for everyone by using a single, consistent measure
● Enables a player's handicap to be easily portable from club-to-club and country-to-country
● Makes golfing more accessible and inclusive to wider golfer demographics by creating more opportunity for golfers of all abilities to play recreationally and competitively
● It enables non-club member golfing communities to have access to their own handicap indexes
How is the WHS an improvement on what was there previously?
Whilst having a handicap to determine your level of playing ability is not new to golf, the new WHS delivers an improved handicap system compared to the previous ones used, as it provides a consistent method of measuring skill-level and everybody's handicaps can now be easily portable from course-to-course and country-to-country.
In short, the WHS has created a handicapping method that is adaptable, easy to use and enables players of all abilities to play and compete on a fair and equal basis.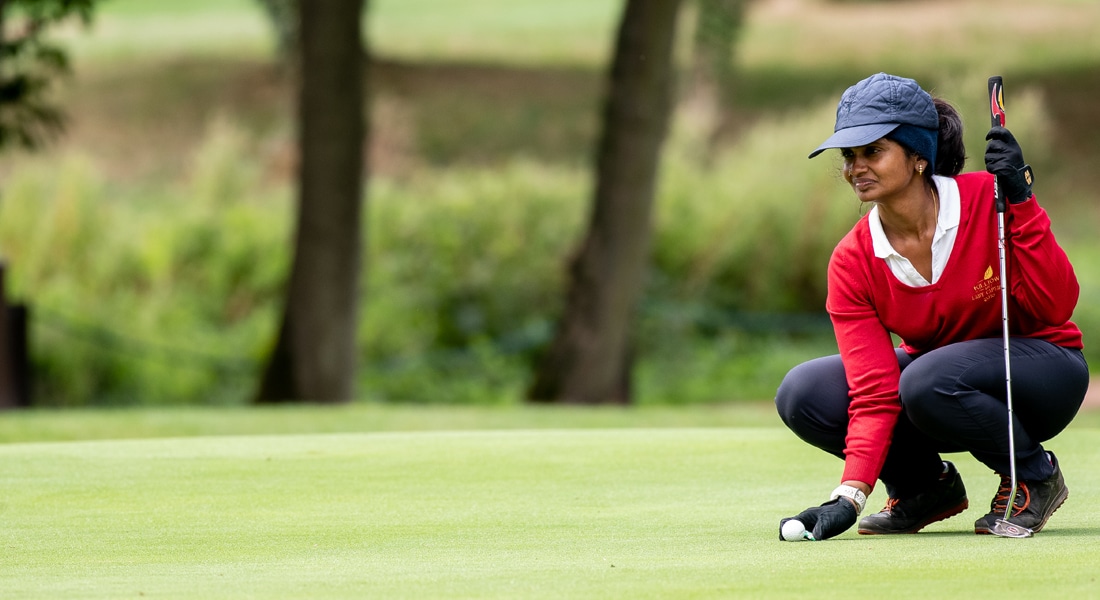 How does the WHS make golf more inclusive and accessible?
Traditional and historical routes to obtain handicaps have required players to join a golf club but the new WHS now welcomes and encourages everyone to play golf, regardless of whether you are a golf club member or not (read on to learn more about how to obtain an official handicap if you are not a club member). By also recognising the changes to our everyday lives and the need to have a more adaptable system that is suited to everybody's needs, the WHS now accommodates recreational, competitive, 9-Hole scores and 18-Hole scores when calculating handicaps. Coupled with an increased maximum Handicap Index of 54.0, WHS removes numerous barriers to play the game and obtain a handicap
How does WHS work?
The WHS calculates your Handicap Index(a measure of your golfing ability) using your most recent 20 scores. From there, it will enable you and every golfer to compete fairly across any golf course in the world by converting your Handicap Indexes, according to the difficulty of a golf course and the tees that are being played from, to a Course Handicap.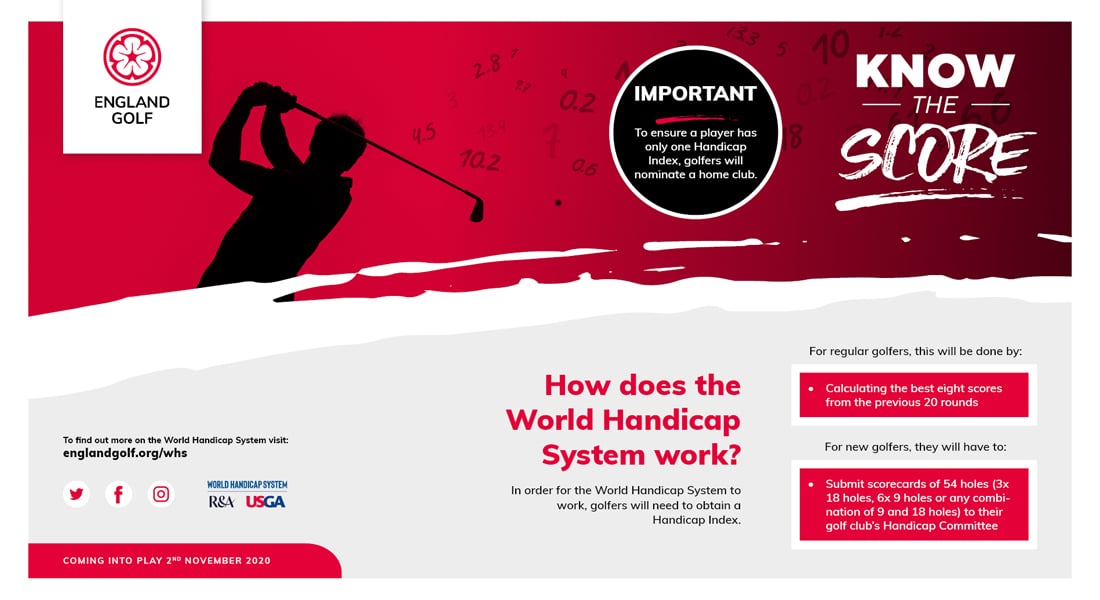 How is a Course Handicap calculated?
Calculating your Course Handicap requires three distinct ratings of a particular golf course to be determined:
• Bogey Rating – The measure of playing difficulty from a set of tees when played by a Bogey Golfer (a player with a Course Handicap of approximately 20 for a male and 24 for a female)
• Course Rating – The measure of how many strokes a Scratch Golfer should take on any given course (a player who can play to a Course Handicap of 0 on all rated golf courses)
• Slope Rating – Calculated using the Bogey Rating and Course Rating, this measure assesses the relative playing difficulty of a course for Bogey Golfers, compared to Scratch Golfers. The higher the Slope Rating, the more additional strokes a Bogey Golfer will need to be able to play it, and vice versa
The formula to calculate Course Handicap = Handicap Index x (Slope Rating / 113)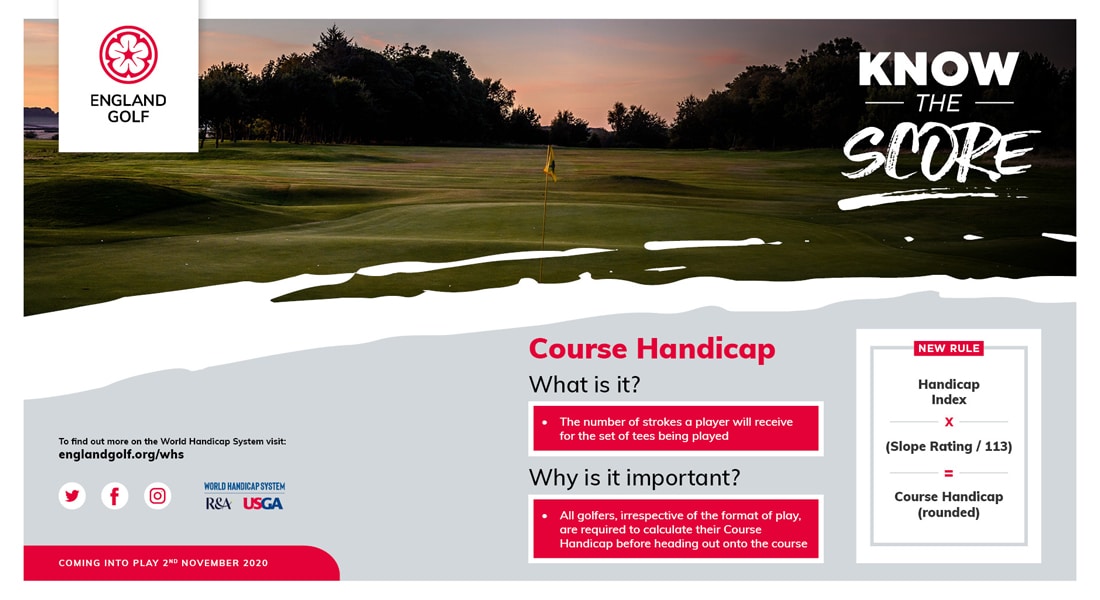 Does every country follow WHS?
Since its launch in January 2020, over 110 countries have now adopted the WHS with more soon to follow, according to the WHS official website. The WHS is now in full and widespread use across England too after England Golf, the governing body of the amateur game, rolled it out in November 2020 to around 1,800 golf clubs across the country.
How can I obtain a handicap?
If you want a golf handicap and the ability to track your progress in real time and are not a member of a golf club, the iGolf digital subscription can help you to do so. By subscribing to iGolf and using the My EG app, golfers can gain their first Handicap Indexby submitting a minimum of 54 holes (using any combination of 9 and 18 holes).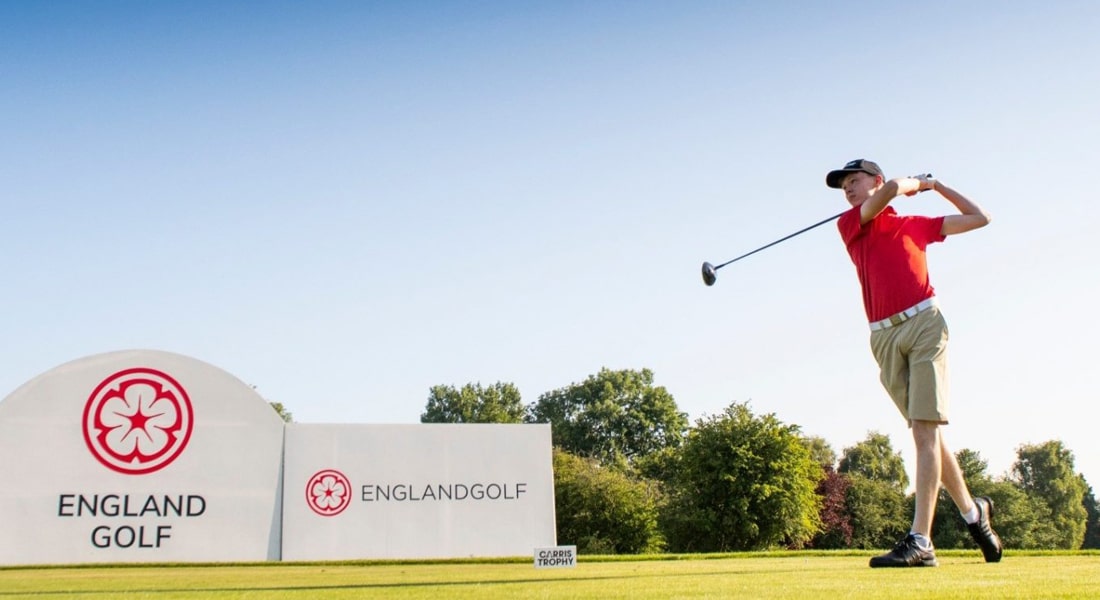 What is iGolf?
Managed by England Golf, iGolf is a digital subscription for non-club members to access and obtain an official Handicap Index under the World Handicap System. Specifically designed for non-club members and entry-level golfers looking to attain traditional club membership at a later stage, iGolf is a fast-growing digital community that allows individuals to track their performances and engage with their friends and other like-minded golfers.
The benefits of iGolf
• Become part of a fast-growing digital community of like-minded golfers
• Keep track of your scores and progress through the My EG app
• Easy sign-up process to a flexible and inclusive digital service
• Receive regular and exclusive content from England Golf including updates, offers and opportunities of interest to you
• £44 for a 12-month subscription
• Public liability insurance is included in each subscription, for peace of mind
To find out more about iGolf, get in touch with igolf@englandgolf.org.