Despite its first-glance appearance as a complex concept reserved only for highly-experienced and regular golfers, a handicap is something that can be obtained and benefitted from by casual and skilled golfers alike. 
It's something that allows you to track the improvement of your game over time and ensures the game is fair and equitable, especially if you're playing a round of golf with others who are a different level to yourself.
If you're excited by the idea of fresh air, good exercise and the enjoyable challenge that only a golf course can provide, you'll be pleased to know that calculating a handicap has never been easier, due to the World Handicap System (WHS) launched in 2020, which provides an official handicap to golfers anywhere in the world. 
Developed by The R&A and USGA in collaboration with pre-existing handicap bodies, the WHS makes handicapping easier to understand and implement by using a single, consistent measure.  Furthermore, as membership of a golf club is no longer a pre-requisite to hold an official handicap, there is now a solution for non-member golfers who are looking to obtain one.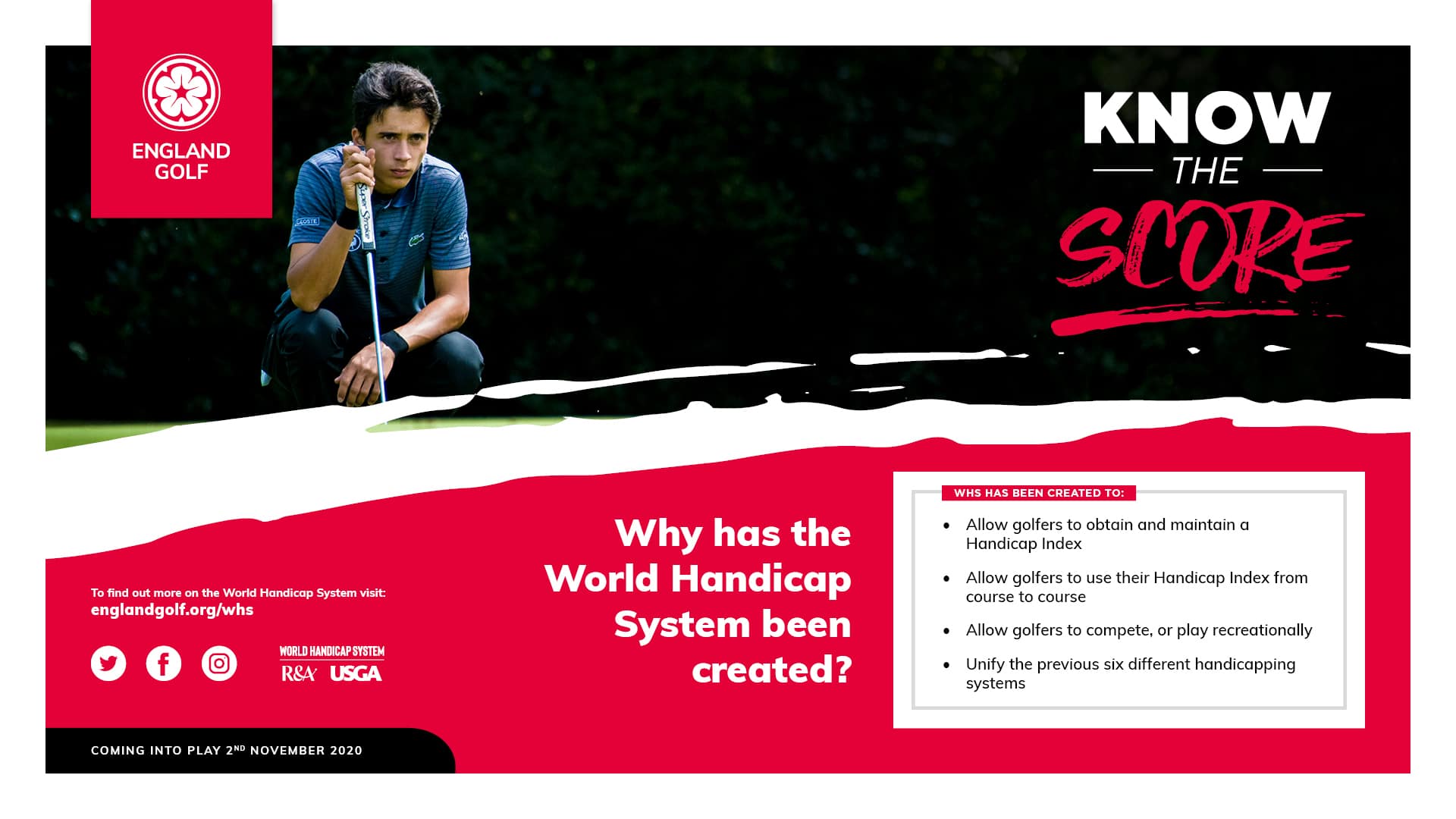 The golfing terms you need to know
Don't let golfing jargon scare you. Understanding a few key golfing terms will help you to make sense of what your handicap actually means and appreciate how it is calculated from course to course. 
At face value, handicapping terms such as bogey rating, course rating and slope rating sound intimidating, but these are pre-calculated for your peace of mind and will always be available on the R&A Course Rating and Slope Database in case you want to check them for yourself. Here is a summary of what these terms mean:
Bogey Rating

– The measure of playing difficulty from a set of tees when played by a Bogey Golfer (a player with a Course Handicap of approximately 20 for a male and 24 for a female)

Course Rating

– The measure of how many strokes a Scratch Golfer should take on any given course (a player who can play to a Course Handicap of 0 on all rated golf courses)

Slope Rating – Calculated using the Bogey Rating and Course Rating, this measure assesses the relative playing difficulty of a course for Bogey Golfers, compared to Scratch Golfers. The higher the Slope Rating, the more additional strokes a Bogey Golfer will need to be able to play it, and vice versa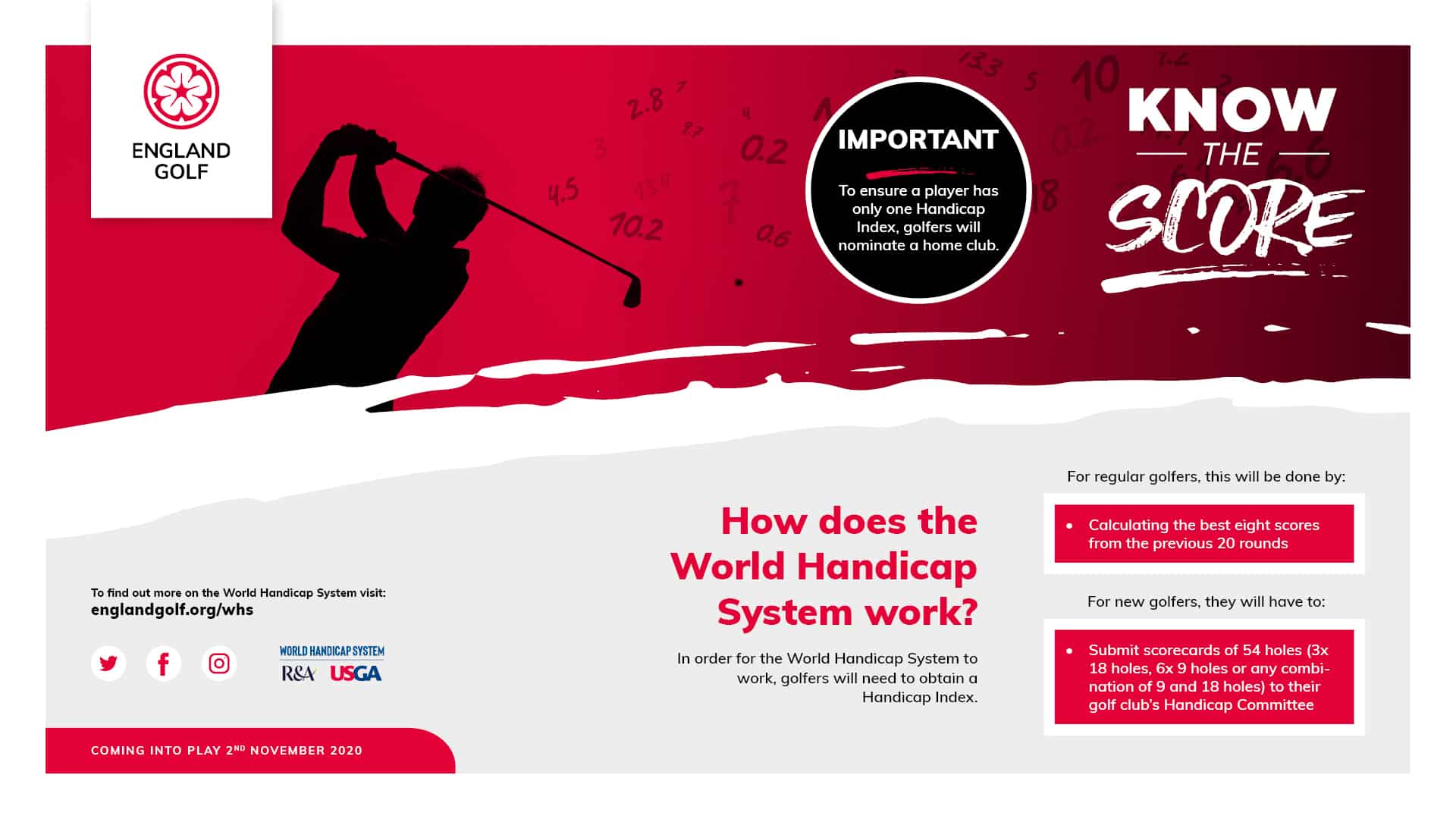 How is my golf handicap calculated?
The WHS calculates your Handicap Index (a measure of your golfing ability) for you, using your eight best scores that are submitted from your most recent 20 rounds. It can be a slightly tedious calculation, though not particularly complex, and is all done for you through the WHS. These are the steps it takes to work it out:
It takes the course rating, slope rating and your adjusted gross score to work out a handicap differential for each round that you've played, through this calculation: (113 / Slope Rating) – (Adjusted Gross Score – Course Rating – Playing Conditions Calculation)

From here, your handicap index is determined by selecting your best 8 from 20 differentials and then dividing the total by 8.
The final figure will provide you with an accurate handicap. It's not designed to reflect your average score, but rather how well you're likely to play on a course of average difficulty.
How is my course handicap calculated?
A Course Handicap enables you and every golfer to compete fairly across any golf course in the world according to the difficulty of a golf course and the tees that are being played from. Calculating your course handicap requires a handicap index and the slope rating for the golf course you are about to play.
Your course handicap is calculated automatically on the My EG app but you will also be able to consult a board at each golf course (usually located at or near the first tee) to ascertain your course handicap based on your handicap index. In both forms, they use the exact same equation:
Course handicap = Handicap Index x (Slope Rating / 113)
As a result, both will determine your course handicap for you ahead of your next round of golf, whether that is playing at your favourite golf course or somewhere brand new.
I am a non-member golfer, how can I acquire a handicap?
If you want a handicap and the ability to monitor your progress in real time, but you're not a member of a golf club, iGolf is the perfect solution for you to be able to do this. 
It is specifically designed for golfers who aren't a club member or are new to the game and looking to obtain club membership further down the line. By subscribing to iGolf and using the My EG app, you will receive your official Handicap Index by submitting scores from a minimum of 54 holes (this can be any combination of 9 or 18 holes).
The benefits of iGolf:
Become part of a fast-growing digital community of like-minded golfers

Keep track of your scores and progress 

Easy sign-up process

Receive regular and exclusive content from England Golf including updates, offers and opportunities of interest to you

£44 for a 12-month subscription

Public liability insurance is included in each subscription, for peace of mind
Find out more about our new digital community here.  
Getting into golf has never been easier. Download the app and watch your handicap drop while your golfing game soars.
To find out more about iGolf, get in touch with igolf@englandgolf.org.