In 2021, England Golf, the governing body for amateur golf in England, unveiled their brand-new subscription platform, iGolf. The aim of iGolf is simple; to give 2.3 million non-club member golfers in England access to an official Handicap Index under the World Handicap System (WHS), the only official handicap in golf, as well as a way to track their scores, calculate Course Handicaps and monitor their performance in the same way club members do.
For many existing golfers as well as those looking to try golf for the first time in 2022, the new year provides an opportunity to set new handicap targets and general golfing goals. This could be trying to obtain your first handicap, aiming to reduce it to a certain level, or working on a particular area of your game. If you are a non-club member or somebody completely new to the sport looking to obtain a golf handicap, then read on to find out everything you need to know about iGolf, England Golf's digital golfing community, and how it can help you to achieve your golfing new year resolutions in 2022.
What is iGolf?
iGolf is a subscription-based platform launched by England Golf. Designed for non-club members, iGolf provides an official Handicap Index under the new World Handicap System (WHS) and helps golfers of all levels to track their progress whilst playing and competing with friends and other like-minded golfers.
Therefore, if you are currently not a member of a golf club but want to re-activate a previous handicap or are trying to find ways to play and obtain your first ever golf handicap without becoming a golf club member, iGolf is the perfect solution for you.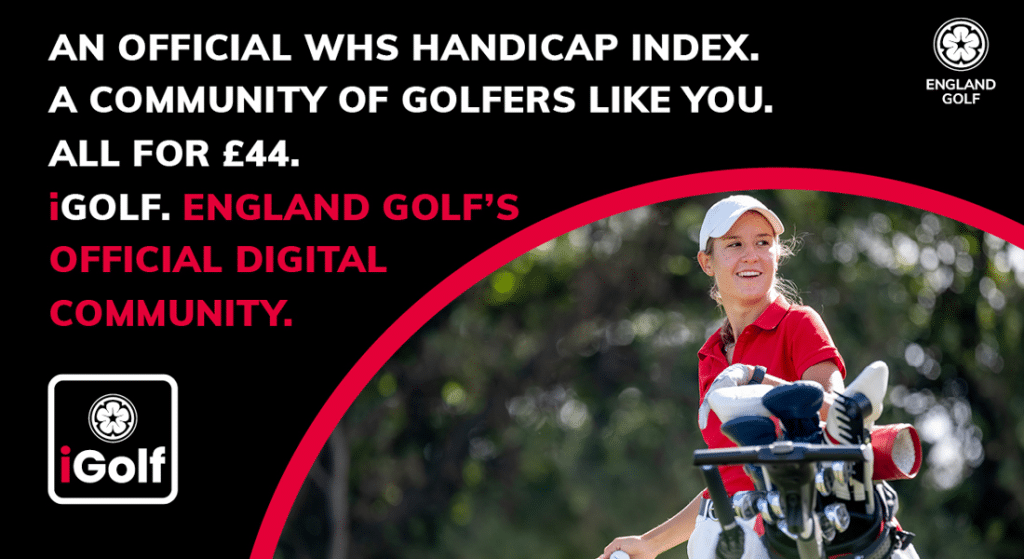 How does iGolf work?
Once you have signed up, you simply download the My EG app and login with your membership number and password to gain access to the iGolf platform.
After you've signed into the app, you can input your scores for handicapping purposes and your performance will be tracked. If you were previously a member of a golf club with scores on the system from 1st January 2018, your Handicap Index and playing history will be transferred.
You can find out more about how iGolf works here.
What are iGolf's key features?
A complete digital history of your handicap and scores over time

Find out which scores contribute towards your Handicap Index

Submit your scores for handicap purposes

See your Course Handicap via the calculator

Get a detailed hole-by-hole scoring record for each round

Become part of a fast-growing digital community of like-minded golfers

Follow your friends' score history

Track your scores and Handicap Index progression easily
What does iGolf mean for 2022 and the future of golf?
iGolf brings the wider golfing community together and helps break down potential barriers that may be preventing people from playing golf more often. By providing an officially recognised way to measure performance, iGolf looks to enhance the playing experience of non-club members and entry-level golfers alike.
In turn, as you continue to play more and experience golf clubs in your area to help maintain your handicap, you will have the chance to experience everything that traditional golf club membership has to offer you in the future. Therefore, iGolf looks to benefit all in the golfing community, including England Golf's 1,800 affiliated golf clubs and facilities.
Does an iGolf subscription replace a club membership?
iGolf isn't a substitution to a golf club membership – you don't get any entry rights or playing rights to any affiliated golf courses, clubs or competitions, and it doesn't have the many other benefits that come with a club membership.
We understand that golf club memberships aren't for everyone and factors such as lifestyle, finances or location may be some reasons preventing you from joining a club. Regardless, if you are a golf enthusiast that wants something different to a traditional golf membership whilst still being able to hold an official Handicap Index and the ability to track your progress, then iGolf could be the solution for you.
So, who can use iGolf?
iGolf is for golfers who don't have a membership at any golf clubs in England, and people who haven't had a golf club membership in the 30 days prior to subscribing to iGolf. It has been designed for non-club members and entry-level golfers to provide them with a means to obtain and manage an official Handicap Index under the new WHS.
Do you need a paid subscription to access the My EG app?
iGolf is housed within the My EG app, of which you need a membership number and password to access. So, you will need a paid subscription to be able to access this service.
You can find out more about the app setup in our FAQs brochure.
Can iGolf be used across all android and iOS devices?
iGolf can be used across all up-to-date Android and iOS mobile devices. You can download the My EG app via the App Store and Google Play.
Is iGolf compatible with smartwatches?
Currently, My EG (and therefore iGolf) isn't smartwatch compatible, but this is something we are looking to introduce in the future.
Can I buy an iGolf subscription as a gift?
A subscription to iGolf is a great present for golf lovers of all ages and levels. From birthdays to Christmas, or even Valentine's Day, if you know someone who loves golf but doesn't have a club membership or is looking to try golf in 2022, you can buy them an iGolf voucher here.
If you're thinking about signing up to iGolf but have some questions or would like to know more, then get in touch.