Whilst golf is often perceived as a challenging sport, it is one that is also immensely enjoyable and highly satisfying for players of all abilities. Played at your own pace and promoting good exercise and fresh air, golf is a sport that offers something for everyone.
It is also a sport that ensures plenty of time in the sun, as you're playing on open spaces for long periods of time. And with English weather often exhibiting all four seasons in a day, there's no guarantee that the cloudy conditions from Hole 1 will still be around by the time you're teeing off on Hole 2 (interestingly, certain regions of England have their own microclimate, including Bournemouth, London, Cornwall and Eastbourne).
With this in mind, it is important that all golfers are prepared for the weather, in particular for prolonged periods of time in the sun. So, here are a few simple ways to keep cool on the golf course this summer:
1. Tee off early
One of the best ways to beat the heat is to, quite literally, beat it. By teeing off before the sun has risen in full force, you can be off the golf course early enough to avoid the worst of the midday heat. You might have to contend with morning dew on the first couple of holes but playing the round without the midday sun on the back of your neck makes up for it.
2. Hydrate early, hydrate often
Regular water intake is a good thing on and off the golf course. But, given the extended exposure to the sun and the physical exertion of golf, we recommend including electrolytes as part of your hydration efforts. Bought over the counter at the Pro Shop, sports drinks are full of electrolytes, or you can add rehydration supplements to your water too.
3. Always apply sunscreen
The importance of sunscreen cannot be overstated. Sunburn and heatstroke can occur even in cooler or overcast conditions. Make use of higher SPF sunscreens or reapply at regular intervals. 
Note that sunscreen won't cool you down, so if you're in need of something soothing, try using cooling gels (gels infused with oils like aloe vera or eucalyptus). Applying a small amount to the backs of your knees or behind your ears can go a long way towards keeping your core temperature at a manageable level.
4. Find the shade
Golf courses often have trees dotted throughout each hole, which can provide perfect havens from the sun on a hot day. Wherever possible, spend time in the cool of the shade and the difference will be substantial. In the event that you are playing a links golf course, where there are often no trees at all, taking an umbrella with you will help combat sunny weather instead.
5. Keep a cool head
A cap or sun hat is a must-have on a hot day. You're spoiled for choice with golf caps, with features such as sweat-absorbing materials and porous air vents to increase air circulation, so pick and wear the most comfortable one for you.
For added protection, you can also wear or tuck a buff into the back of your headwear to keep your neck out of direct sunlight.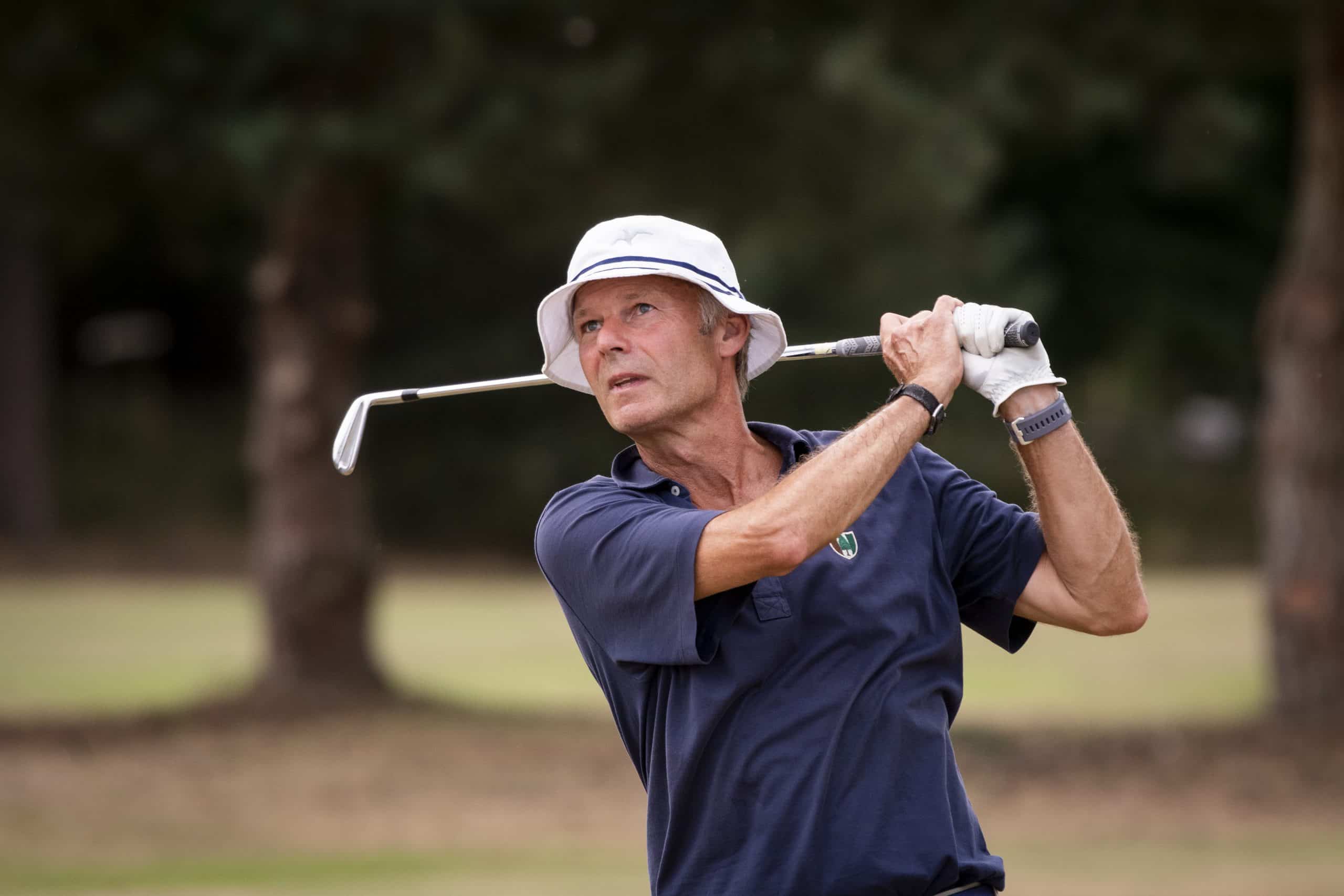 6. The right attire
Much like your headgear, golf-specific attire exists both to keep you cool and afford maximum freedom of movement. Whichever brands and styles you go for, make sure you kit yourself out with a sweat wicking shirt. It will keep you cool and dry, even after 18 holes in the summer.
7. Enjoy playing in the sun and playing more golf with iGolf
Now that you have put a range of protective measures in place, you are in a strong position to take advantage of the upcoming sunny weather and to begin improving your game as much as possible. For non-club members who aren't currently a member of a golf club and don't have an official handicap to do so, this can be achieved through England Golf's iGolf subscription. 
Specifically designed for non-club members and entry-level golfers, iGolf is a popular digital community that provides access to obtain an official Handicap Index, track your progress, compete against your friends and ultimately play more golf.
The benefits of iGolf:
Obtain an official World Handicap System (WHS) Handicap Index

Keep track of your scores and

your handicap

progress 

Easy sign-up process

Exclusive offers and opportunities

£44 for a 12-month subscription

Public liability insurance is included in each subscription, for peace of mind
To find out more about iGolf, get in touch with igolf@englandgolf.org.