Supported by Slingsby Gin, The Slingsby Golf Academy has been created to inspire and increase female participation within golf. With the help of a few famous faces, including Zara Tindall, Judy Murray, Zoe Williams and Anna Woolhouse, The Slingsby Golf Academy has entered its second season.
As part of the series, the celebrities will work with PGA Teaching Professionals to improve their golf games, with the winner receiving a spot at the BMW PGA Championship Pro-Am at Wentworth.  The series can be followed on social media – @slingsbysocial – with exclusive clips show on Sky Sports throughout the second season of the academy.  With plenty of challenges and tribulations on show as the cadets attempt to master the game of golf, it's definitely worth a watch.
What is the Slingsby Golf Academy?
Supported by England Golf, the first Slingsby series reached over one million people last year, helping to inspire more women to take to their nearest course to give golf a go!
Giving his take ahead of the second season, England Golf CEO, Jeremey Tomlinson said: "We're delighted to support the new group of Slingsby cadets as they embark on their exciting golfing journey. A core element of England Golf's 'Course Planner' strategy is to inspire more women and girls to pick up a club and enjoy our wonderful game." 
With opportunities to showcase both the challenges of golf but also the social benefits that the sport can bring through the relationships that can be forged on the course, the series will help to expand the horizons for many future golfers.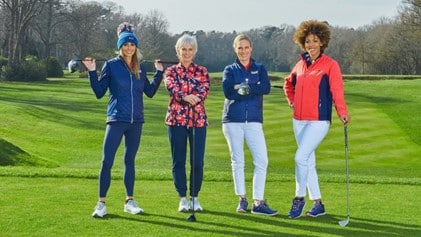 What can we expect?
There's plenty for you to watch and learn during the series.
It will focus on both the competitive and social elements of the game, with previous episodes showing how to approach strategy on the golf course, as well as providing ways to get into golf in a relaxed format, such as Top Golf.
Season 2 is already underway, with the cadets focusing on the basics of the game as they look to progress their skills and abilities over the next few months.  Check out the first episode below. 
A Cadet's Insight
The series highlights the many avenues that are available for everyone to get into golf.
Olympic equestrian star Zara Tindall has said: "I am really excited to learn to play golf as part of this group, but also to hopefully show that wherever you start from, you can have a go and enjoy getting out and trying something new."  
Despite heralding from Scotland, the home of golf, tennis coach Judy Murray came across the sport accidentally: "Through the pandemic I watched people playing golf all day long in stunning scenery and that's really what got me thinking that I should give it a go.  I've cut down on work commitments lately, so I have more time to explore new things and I'm always up for a challenge."
Where Can I Watch?
With the current series already up and running you can catch both season one and the most recent episodes of season 2 on:
Make sure you're following across the social media platforms to keep up to date with all the content, videos and progress of the cadets!
Everyone can benefit from playing golf
Whether you are a member of a golf club or not, golf is a sport for everyone that provides almost endless health and wellbeing benefits.
With an iGolf subscription, non-club members can enjoy the sport more too, by obtaining an official Handicap Index. For just £44 a year, iGolf enables you to track your scores, benchmark your progress against your friends, and enjoy the game even more!To find out more about iGolf, get in touch with us via email on igolf@englandgolf.org.