Jack, Charlie, Brandon, and Nathan had limited experience in golf, but in the summer of 2022 the four friends decided to journey into the world of golf together and document their progress along the way with iGolf.
Since taking the game more seriously the group of 27-year-olds have started their very own Instagram and TikTok, as a way of journaling their progress.
"We all dabbled in golf sporadically as teenagers, playing par 3 academy courses. Brandon has had 10 hours of lessons. Myself, Charlie and Nathan have never had any golf lessons/coaching.
"Last summer we decided to pick up the game more and started to play 9 holes. We found ourselves just wanting to be better at golf and enjoy documenting it." Jack explained.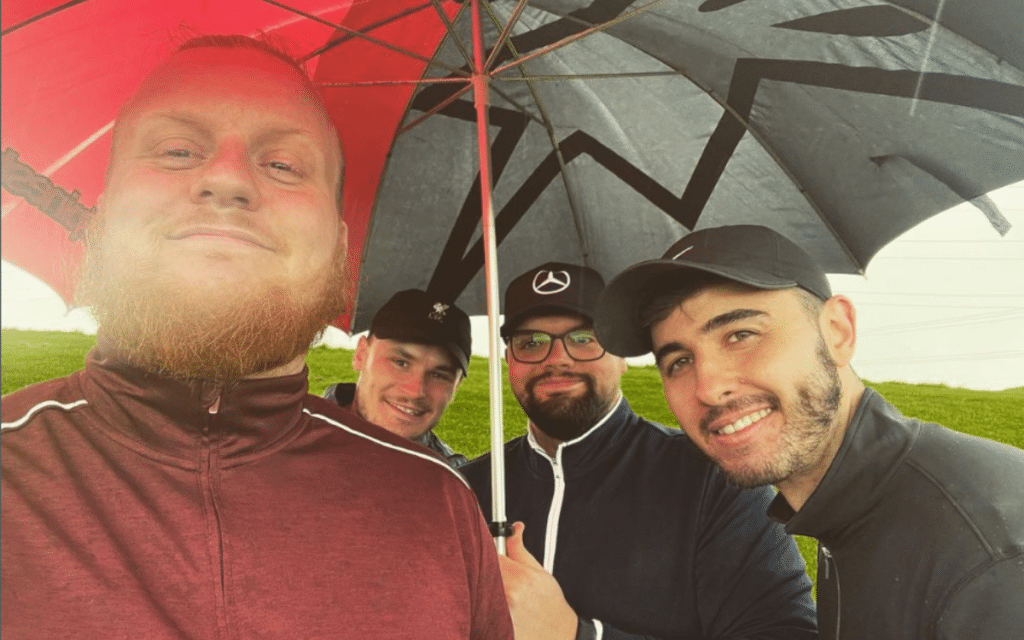 Having started to take the game more seriously all four of the group were made aware of iGolf by the golfing Instagram community and decided to join, allowing them to create a golfing journal alongside their visual journals on social media. Jack said:
"We all have the habit of chucking scorecards at the bottom of the bag and forgetting about those rounds, but with iGolf it allows us to create a golfing journal, that we can look back through and see our golfing journey."
Having joined iGolf all four of the group have gained a better understanding of their ability and play more competitively with each other.
"Joining iGolf together is great from a competitive standpoint as we enjoy levelling the playing field and competing against each other.
"It has helped give us a better understanding of our ability and allow us to accurately track our progress. It's also very handy for playing a variety of different courses, due to the ease of handicap application.
"We would recommend iGolf to everyone getting into golf, even if you are just starting out as it is a great tool for a golfer." Said Jack.
Having been with iGolf all four iGolfers now have their official Handicap Index®, currently they are Jack (27.7), Charlie (23.5), Brandon (13.6), and Nathan (27.5).
As well as the golfing benefits to becoming iGolfers the group of friends have also been able to enjoy the mental and physical health benefits of the game more than ever before. Jack explained:
"Playing golf is a great way to stay fit and active and has a great social aspect as we play as a four ball of friends. Moving on from COVID, it's so important that you can spend quality time with friends.
Golf has had a major positive impact on our friendship as we see a lot more of each other in person while keeping very active, this in turn has a direct impact on our mental health and wellbeing.
There is nothing quite like getting out on the course with the boys."
With the golfing season in full swing all four of the group have set their own golfing targets alongside the aim of uploading even more content over the coming months.
"We have lots more content to come on our socials, now the summer months are approaching. We also have set some golfing targets in terms of improving and getting our handicaps down." Jack said.
You can follow the boys golfing journey via their Instagram and TikTok.
Want To Learn More about iGolf?
iGolf is an easy-to-use platform for non-club members who wish to start the journey towards getting a Handicap Index®, the subscription service is provided by England Golf is the only place you can access a Handicap Index under the WHS, just like a club member would.
Click here to find out more about iGolf , or get in touch with any questions or queries  and email us at igolf@englandgolf.org.