Since the launch of iGolf in the summer of 2021, getting an official WHS Handicap Index as a non-club member could not be simpler.
We have been overwhelmed by the reception the iGolf platform has received. Fast approaching 20,000 subscribers, this shows us that the appetite is there for those who aren't club members to go out and compete with friends on a level playing field, track their performance and set goals to improve their game.
It has also been great to hear that iGolf has inspired many golfers to get out and play more, with over 127,000 scores submitted to date and over 1,000 iGolf subscribers having going onto to become fully fledged members of a golf club too.
In order to keep on encouraging these great trends, and to further bolster participation and motivation for non-club members out there who want to gain and maintain an official Handicap Index, today we have launched the first ever iGolf 30-day free trial.  Helping as many of you as possible kickstart your golfing journey.
All you need to do is head to our homepage, click Join Now and input the code 'TRIAL30' on the sign-up form when you get to Payment Details.  
The 30-day free trial provides you with instant access to the 'My EG' app.
Using the app, golfers can enjoy the following benefits:
Obtain your first official handicap index (or re-activate, if a previous club member)

Measure your playing ability against friends and family 

Play golf safe in the knowledge that your handicap is official under the new World Handicap System (WHS), just like any other club member
Other iGolf benefits include personal liability insurance, a monthly newsletter, updates on iGolfer competitive opportunities, and club membership and green fee offers.
For further information on the 30-day free trial, including important information regarding terms and conditions, check out the dedicated page on the iGolf website here.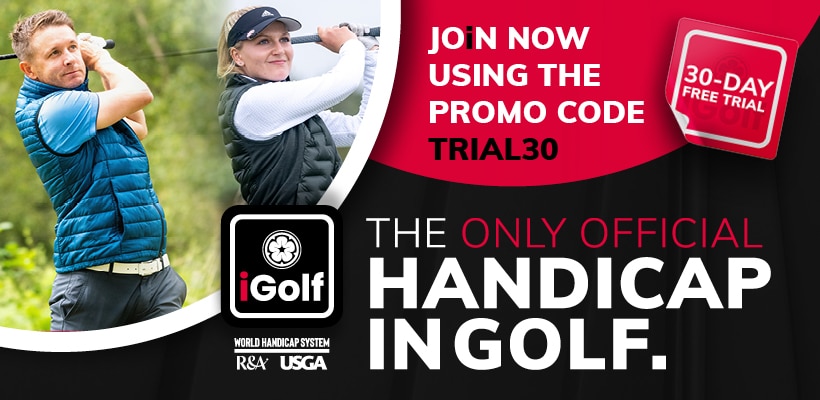 The benefits of iGolf:
A complete digital history of

your handicap

and scores over time

Keep track of your scores and progress 

Easy sign-up process

£40 for a 12-month subscription

Receive

Personal liability insurance

arranged via Bluefin Sport
To find out more about iGolf, get in touch with igolf@englandgolf.org.